Why, hello there.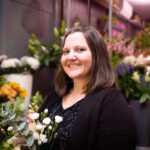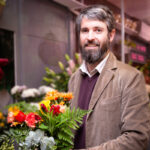 Hello to you from Graeme and Stacey! We took over Margaret Raymond Florist in 2020 and are excited to be adding our traditionally-made natural soap to the shelves too alongside the most beautiful and fragrant floral arrangements, fresh cut flowers, seasonal plants, and beautiful locally-made gifts.
We're the kind of people who love working with flowers and plants. We strive to capture a tiny bit of nature's awe in beautiful bouquets for your budget, bespoke arrangements for your event, and completely unique collaborations for your special occasions – whether they be happy ones, or sad ones. We're honoured to be able to add a touch of magic to your special moments, and we're always happy to work with custom arrangements that are as unique as you are.
Meet our wonderful team who create the most amazing floral arrangements and keep the shop running smoothly day-to-day:
Visitors are always welcome in our flower shop, come in and smell the roses!
Pop in and see us any time, or make an appointment if you'd like to arrange a bespoke consultation for your floral needs. We look forward to meeting you.